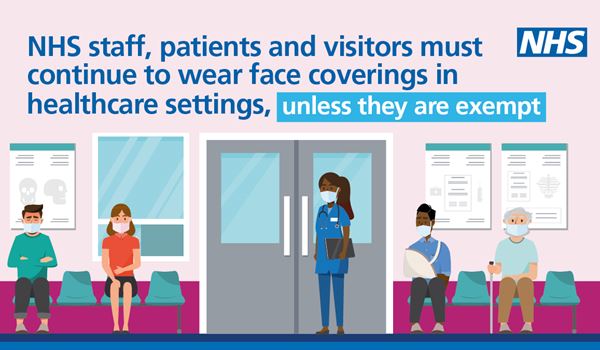 Lateral Flow Tests (LFTs)
COVID Vaccinations - information
Covid Spring Boosters
Please click here for details of the spring booster clinics at Wetherby Health Centre.
***Please note that the Covid Vaccine Clinics at Wetherby Health Centre are cancelled on Saturday 14th May and Saturday 21st May***
Covid Vaccinations 5 - 11 year olds
The NHS is now offering COVID-19 vaccinations to all children aged 5-11, in line with the latest advice from the Joint Committee on Vaccination and Immunisation (JCVI). As well as protecting children against serious COVID infection and long covid, this will reduce the risk of children passing on the infection to others.
The practice is currently not offering vaccinations for this age group but you can book an appointment at a convenient community or pharmacy vaccination centre. Please book online at www.nhs.uk/covidvaccine or by calling 119, free of charge.
For further information on COVID-19 vaccinations for 5-11s please visit www.leedsccg.nhs.uk/health/coronavirus/covid-19-vaccine/
Covid Pass
From 17 May 2021, people in England who have been fully vaccinated against COVID-19 can demonstrate their vaccination status for international travel. A full course is currently two doses of any approved vaccine. Vaccine status will be available from:
It may take more than a week for your identity to be checked and verified so you can use these services.
Registering for the NHS App is easy to download and you will have access, once identification has been provided and it's been verified.
If you cannot access these online services, and you have had 2 vaccines, you can request a paper letter from the NHS by calling 119. Only call 119 if you had your second dose more than 5 working days ago. It may take 7 working days for the letter to arrive.
This practice is not able to provide you with a letter that shows your COVID-19 vaccination status. Please do not contact the practice.
When you're planning your travel, check the latest information on demonstrating your COVID-19 status when travelling abroad on the gov.uk website. Make sure there is time to get proof of your vaccination status before you leave.
More information can be found on the GOV.UK website. Please also see information on how to use the NHS App.